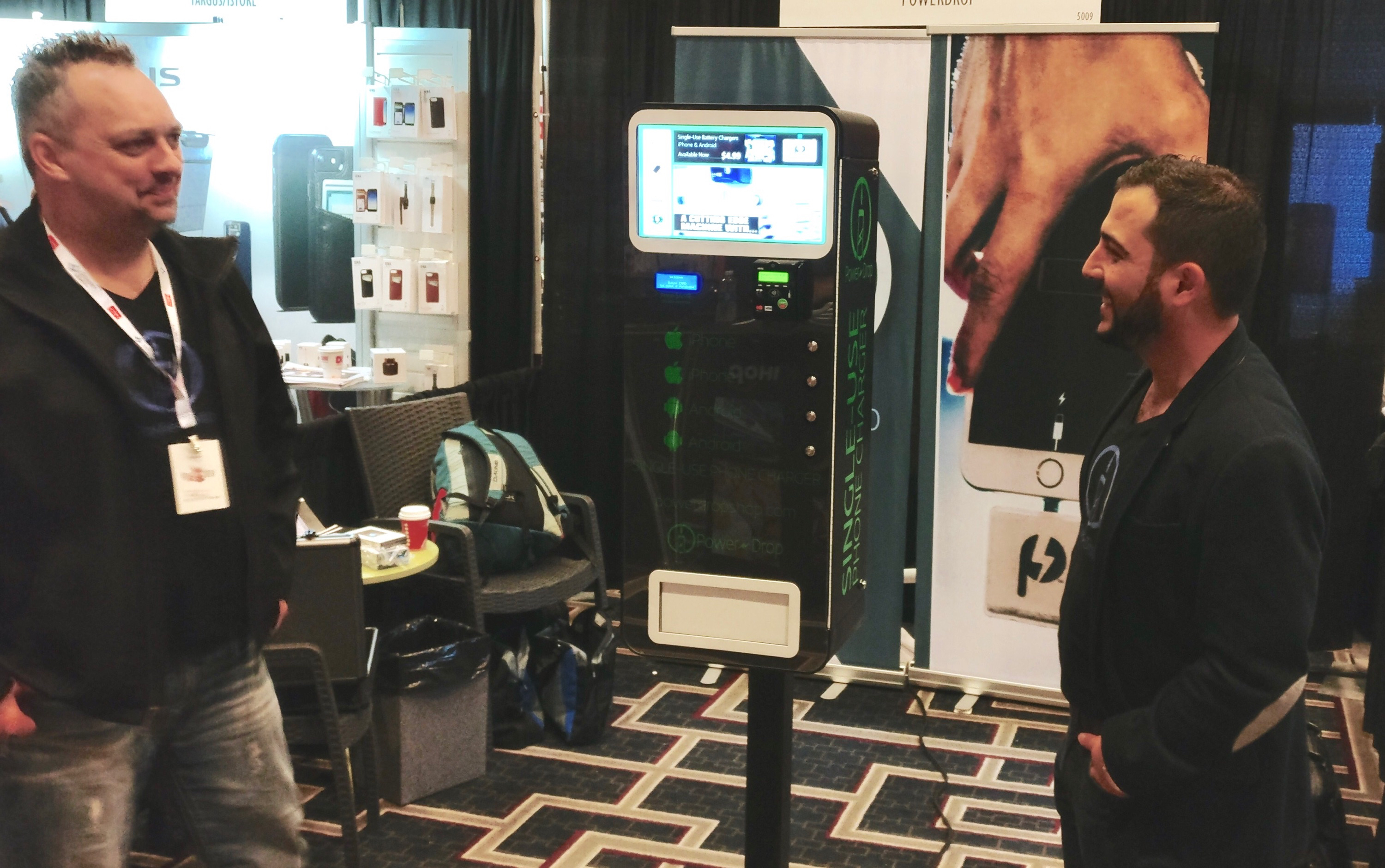 Summary: The single use-phone charger kiosk makes a statement among attendees
April 12th 2017, – Los Angeles CA – Power Drop – a groundbreaking self-service kiosk that sells one-time use recyclable phone chargers, exhibited at the Airport Revenue News Conference in New Orleans. The ARN Conference is one of the leading airport terminal conventions in the USA with nearly every international airport attending. The Power Drop team displayed their state of the art "slimline" kiosk produced by The Venders.
Airport management teams gathered around the kiosk to experience the purchase process and try out a sample charger. "At some points there was a line 10 people deep waiting to try out the kiosk" said Joe Menichiello, Managing Director of Power Drop. "We were able to speak with the decision makers of most of the nation's leading airports. This is what we came to do and what we certainly accomplished". Power Drop exhibited alongside some of the nation's top retailers and restaurant groups.
Many exhibit goers agreed that the Power Drop kiosk stole the show and easily could be the top new concept for airports moving forward. Most airports are looking for a solution for their guests who frequently are forced to sit next to an outlet or pay absurd amounts of money for a portable charger. This issue is even turning into a safety hazard as people are sitting on the floor while they are connected or leaving their phones unattended while charging which extremely prohibited.
Alongside the Power Drop team was their Canadian partner, Dustin Basisky, who also met with top Canadian airports and will be rolling out within the Edmonton International Airport by summertime. Hundreds of samples were distributed to eager attendees who needed a charge. Most airport managers agreed that there is a tremendous opportunity within their spaces.
They also commented that the ease of the machines as well as the simplicity of the purchase makes this a no brainer for their locations. The Power Drop is available for purchase to qualified entrepreneurs throughout the USA. 3 kiosk packages start at $16,500.
If you or someone you know is interested, please connect with Power Drop on www.powerdropshop.com or call them at (888) 900-3133.
Contact Detail:
Company Name: Power Drop
Contact Person: Power Drop Public Relations
Email: info@powerdropshop.com
Phone No: 8889003133
Address: 13395 Estelle St.
City: Corona
State: CA
Country: United States
Website Url: www.powerdropshop.com


Source: www.PRExhibition.com