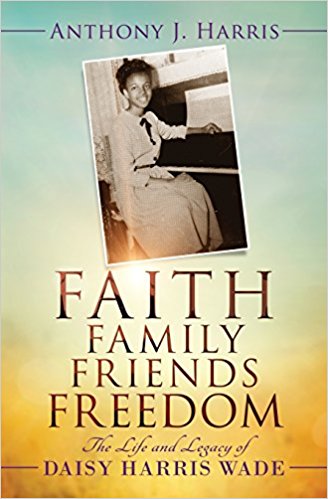 Harris was pleased to be able to write this personal and poignant account of his mother's life.
Summary: Harris' tribute chronicles mother's life as an icon and civil rights activist
Houston, TX – Dr. Anthony Harris, Chair of Department of Leadership at Sam Houston State University and author of 6 books ranging from a children's book to a two-part novel, wrote Faith, Family, Friends, Freedom – The Life and Legacy of Daisy Harris Wade to tell the story of his mother and her strides as a civil rights activist.
Chronicling the life of Daisy Harris Wade is a notable read at any time and particularly following Black History Month, where the focus on how she participated in a tumultuous time in America's struggle during the Civil Rights Movement.
Set in Hattiesburg, Mississippi, Harris uncovers the story of how Wade stood on the solid foundation of her Christian faith, love of her family, devotion to her friends, and an unwavering commitment to the struggle for freedom and civil rights.
Harris was pleased to be able to write this personal and poignant account of his mother's life. He also invited family members and friends to share their memories of her as well. The result is a stunning collaborative project illustrating the depth and breadth of a well-lived life spanning 83 years.
ABOUT Anthony J. Harris
Anthony J. Harris, a college professor, lecturer and author, was born in Hattiesburg, Mississippi and was an active participant in the local Civil Rights Movement. He has also been a champion for ethical leadership for the greater part of his life. Dr. Harris has published a of scholarly articles and 8 books including Fruits of a Disgraced Legacy, It's What's on the Inside, Gifts of Moments: Being Somebody to Somebody, and Ain't Gonna Let Nobody Turn Me 'Round. In his books, he draws upon life lessons learned through love, injustice, leadership, and power.
Dr. Harris has been featured on PBS in the documentary, Freedom Summer and conducts keynote addresses on topics pertaining to the Civil Rights Movement, the educational success of young black males and leadership. Since 2008, Dr. Harris has served as Professor of Education at Mercer University in Atlanta, Georgia. He and his wife, Smithenia, have two adult children, Ashley and Michael.
For more information, to schedule an interview or receive a review copy of the book:
Contact Sandy Lawrence, Publicist
sandy@perceptivepublicrelations.com
281-9898892
Contact Detail:
Company Name: Perceptive Public Relations
Contact Person: Sandy Lawrence
Email: sandylawrence@perceptivemarketing.com
Phone No: 2819898892
Address: 13202 Dogwood Blossom Trail
City: Houston
State: Texas
Country: United States
Website Url: www.perceptivepublicrelations.com

Source: www.PRExhibition.com