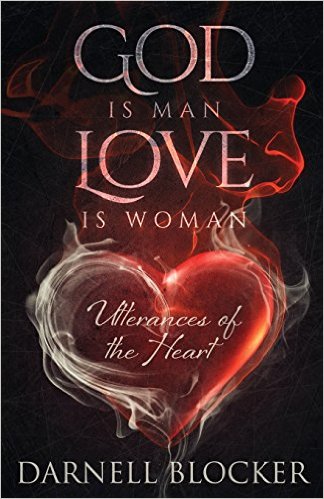 This collection of poems will encourage readers to communicate their feelings and emotions in a healthy tangible way."
Summary:God is Man, Love is Woman comes from Darnell's heart as he expresses his love and passion through spoken word
God is Man, Love is Woman comes from Darnell's heart as he expresses his love and passion through spoken word
1 Mar, 2017 – Atlanta, GA – Darnell Blocker, a Licensed Professional Counselor with a private practice in Fayetteville, Georgia recently released a book with Tandem Light Press. God is Man, Love is Woman: Utterances of the Heart is the result of his own journey through the pain of failed relationships. He learned how to better express love and passion through poetry and the spoken word. Writing poetry helped Darnell heal and gave him the motivation to find new love in his life.
When not writing poetry or publishing a book, Darnell works with individuals, families, and couples in rehabilitation from years of separation. Additionally, Darnell works with persons dealing with schizophrenia and mental retardation.
He says, "God is Man, Love is Woman is a book of poetry for people who love love. This collection of poems will encourage readers to communicate their feelings and emotions in a healthy tangible way."
Men will learn to find themselves and through their words more honestly express their emotions. Women will gain insights to how a man thinks. All readers will discover the joys and hardships of falling in love, breaking up, and finding the hope to love again. His book of poetry will help readers master the language of love and enhance the reader's relationships.
Darnell earned his undergraduate and a Masters in Forensic Psychology from Morehouse College as well as postgraduate certification in Marriage & Family Therapy.
Darnell's book is available through the publisher Tandem Light Press (http://www.tandemlightpress.com/darnellblocker.html) or amazon.com.
For more information about Darnell Blocker or to schedule him to speak, contact: Publicist Sandy Lawrence
sandy@perceptivepublicrelations.com
Cell -281.989.8892
Contact Detail:
Company Name: Perceptive Public Relations
Contact Person: Sandy Lawrence
Email: sandylawrence@perceptivemarketing.com
Phone No: 2819898892
Address: 13202 Dogwood Blossom Trail
City: Houston
State: Texas
Country: United States
Website Url: www.perceptivepublicrelations.com


Source: www.PRExhibition.com