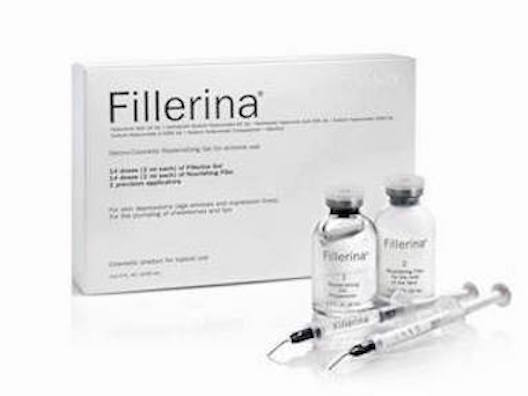 Derma-Cosmetic Filler for at-home-use
Summary:Fillerina is a topical filler gel to target wrinkles and boost volume in cheekbones and lips with our patent of 6 Hyaluronic molecules.
Fillerina® is a revolutionary, no-needle, dermo-cosmetic filler for at-home use that contains the first-ever blend of six hyaluronic acids with different weights and structures to facilitate in the plumping of tissues without puncturing the skin. Featuring a patent for the formula containing the six different molecular structures of varying weights and size of hyaluronic acid (Swiss Patent CH 705713) and a patent for the precision applicator (Swiss Patent CH 695412), Fillerina® is the only cosmetic product that allows large quantities of hyaluronic acid to penetrate deep into the cutaneous tissues, without injections.
Launching in the US in March 2016 and available in three graded strengths, Swiss created Fillerina® contains a unique formula of a very high quantity of hyaluronic acids and peptides to soften fine lines and wrinkles and increase tissue volume in cheeks and lips. Available in a 14-day intensive treatment and everyday maintenance products, Fillerina® has been clinically proven to work effectively via a double-blind, randomised clinical trial.*
Fillerina® 14 Day Treatment
Contents:
14 doses of 2ml of gel filler
14 doses of 2ml nourishing film
2 precision applicators
Dosages of Active Ingredients
Fillerina® dermo-cosmetic fillers are available in three different concentrations in order to provide the most effective and suitable treatment for the skin on the face and neck.
Grade 1 – treats moderate wrinkles and expression lines, and improves signs of sagging, particularly around the lips and cheekbones
Grade 2 – treats visible wrinkles and expression lines and improves uneven skin tone and areas of visible sagging especially around the cheekbones and lips
Grade 3 – treats deep set wrinkles and expression lines, very uneven skin tone and severe sagging of facial features, especially around the lips and cheekbones
Key Ingredients and Benefits
Fillerina® dermo-cosmetic fillers feature a blend of six different hyaluronic acid molecules which vary in size and weight in order to most effectively penetrate and plump up the skin.
Hyaluronic Acid (1000 Da) – immediately penetrates the skin and helps with the swelling of tissues and the smoothing of wrinkles.
Hydrolyzed Sodium Hyaluronate (5000 Da) – as above
Hydrolyzed Hyaluronic Acid (50.000 Da) – penetrates the middle and deep layers of the skin, filling in wrinkles and plumping up lines from the inside.
Sodium Hyaluronate (200.000 Da) – penetrates the surface and middle layers of the skin binding large quantities of water and helps level out the cutaneous skin layer.
Sodium Hyaluronate (2.000.000 Da) – penetrates the surface layers of the skin and helps to keep tissue plumped up.
Sodium Hyaluronate Crosspolymer (Reticulated Hyaluronic Acid) – guarantees a slow and continual hyaluronic acid release into the skin, helping to keep the skin tissue plumped up.
Matrifull – provides reconstruction and gradual progressive plumping up of cutaneous tissue.
Hexapeptide – stimulates the production of membrane proteins to help the flow of water through all of the skin's layers.
The penetration tests on the different HA have been carried out by means of the experimental system known as Franz Diffusion Cells.
Contact Detail:
Company Name: Fillerina USA
Contact Person: melissa peverini
Email: melissa.peverini@fillerinausa.com
Phone No: 5616244364
Address: 60 princewood lane
City: palm beach gardens
State: fl

Country: United States
Website Url: www.fillerinausa.com


Source: www.PRExhibition.com