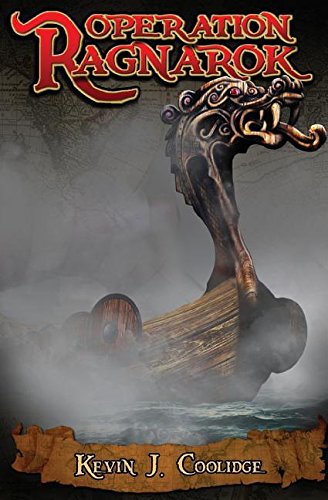 "We are all just killing time, until time eventually kills us. We go through life knowing death is waiting, but not knowing what comes next. I don't have to wonder anymore, because I died."
Summary:Operation Ragnarok is a fantastical adventure with comedic elements about a group of gamers going through a mid-life crisis, instead of the little red corvette, they decide to steal a Viking longship from a museum and release an ancient evil. It's a story of friendship, sacrifice, and unleashing Hel on Earth…
"We are all just killing time, until time eventually kills us. We go through life knowing death is waiting, but not knowing what comes next. I don't have to wonder anymore, because I died."
Operation Ragnarok
is a fantastical adventure with comedic elements about a group of gamers going through a mid-life crisis, instead of the little red corvette, they decide to steal a Viking longship from a museum and release an ancient evil. It's a story of friendship, sacrifice, and unleashing Hel on Earth…
Operation Ragnarok
, think
Night at the Museum
meets
The Big Bang Theory
with a touch of
Stand by Me
vibe. Great for those who love mythology, gaming, and geek culture, but not needed to enjoy this fast-paced tale. If you've ever rolled the dice, you need this book.
Operation Ragnarok
is available for just $9.99 in print version or just $7.99 on
www.wellsborobookstore.com,
or wherever books are sold, also available as an ebook on Kindle, Nook, Kobo, or Apple products
Want to unleash Hel on Hollywood? Check out the Valhalla Project of Facebook
Advance Praise for Operation Ragnarok
Operation Ragnarok is a fast-paced, irreverent nerdfest with laugh out loud dialogue, like Big Bang Theory on steroids. Suspend your disbelief and enjoy! –Dana Fredsti, author of the Ashley Parker Plague Town series
"Hoist your geek flag with Operation Ragnarok, And remember to always bring your claymore with you when robbing a museum or trying to save the world!" –Patrick Thomas, author of the Murphy's Lore series and the Dear Cthulhu advice columns and books
"Let's face it; there's a little hell raising Norseman in all of us. So top off your drinking horn, shoulder your trusty Claymore, and board your very own Viking longship. Kevin J. Coolidge's "Operation Ragnarok" is about to set sail. Who says geeks and gamers can't save the world?" — Max Hawthorne , author of the bestselling Kronos Rising series.
If you're a fan of Norse mythology, pop culture, action and humor this is the book for you! Operation Ragnarok is a wild romp of a read. –V.L. Locey, romance author and mythology aficionado
"A Dungeons and Dragons adventure comes alive with good friends and a hero who loves books!" -Ann Myers, mystery author of Bread of the Dead.
Contact Detail:
Company Name: From My Shelf Books & Gifts
Contact Person: Kevin J. Coolidge
Email: touchofwellness@yahoo.com
Phone No: 5707245793
Address: 7 East Ave. Suite 101
City: Wellsboro
State: Pennsylvania

Country: United States
Website Url: http://www.wellsborobookstore.com/book/9780692760635


Source: www.PRExhibition.com