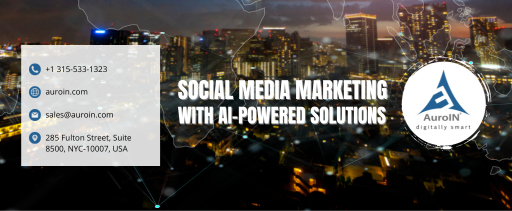 [New York, NY, November 8, 2023] : AuroIN, a pioneering force in the digital marketing landscape, is proud to announce its emergence as a cutting-edge AI-powered social media marketing service provider. Leveraging the power of artificial intelligence, AuroIN is transforming the way businesses engage with their target audience and achieve unparalleled success in the dynamic world of social media marketing.
In an era where online presence is paramount, AuroIN has positioned itself as a trailblazer, harnessing the potential of AI to provide tailored, data-driven social media marketing solutions. By integrating sophisticated AI algorithms, AuroIN empowers businesses to optimize their social media campaigns, boost brand visibility, and drive growth like never before.
Key features of AuroIN's AI-powered social media marketing services include:
Advanced Analytics: AuroIN's AI algorithms crunch vast amounts of data to deliver real-time insights into audience behavior, allowing businesses to make informed decisions and adapt their strategies on the fly.
Content Personalization: AuroIN's AI-driven content recommendation engine tailors content to resonate with target demographics, enhancing engagement and conversion rates.
Automated Posting: Say goodbye to manual posting. AuroIN automates content scheduling, ensuring that posts reach your audience at optimal times for maximum impact.
Competitor Analysis: AuroIN's AI keeps a close eye on your competitors, providing invaluable insights into their strategies and helping you stay one step ahead.
Targeted Advertising: AI-driven ad campaigns are designed to reach the right people at the right time, maximizing ROI and minimizing wasted ad spend.
24/7 Monitoring: AuroIN's AI never sleeps, ensuring that your brand's online reputation is maintained and issues are promptly addressed.
AuroIN's CEO commented, "Our commitment to staying at the forefront of technology has led us to harness the power of AI in our social media marketing services. We believe that AI can unlock tremendous potential for businesses looking to thrive in the digital age."
AuroIN's AI-driven solutions have already been met with enthusiasm from early adopters. Clients have reported substantial increases in engagement, brand awareness, and conversion rates, underscoring the efficacy of AuroIN's approach.
As AuroIN continues to push the boundaries of what's possible in social media marketing, businesses can look forward to more innovative features and personalized strategies tailored to their unique needs.
For more information about AuroIN and its AI-powered social media marketing services, please visit www.auroin.com.
About AuroIN:
AuroIN is a leading digital marketing agency that specializes in AI-powered solutions for social media marketing. With a commitment to innovation and excellence, AuroIN empowers businesses to maximize their online presence and achieve remarkable results in the digital landscape.
Like: https://www.facebook.com/AuroIN/
Subscribe: https://www.youtube.com/user/AuroIN
Retweet: https://twitter.com/auroin
Contact Detail:
Company Name: AuroIN LLC
Contact Person: Media Relations
Email: Send Email
Address: 285 Fulton Street, Suite 8500
City: New York
State: NY – 10007
Country: United States
Website Url: https://auroin.com/contact/


Source: www.PRExhibition.com