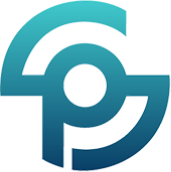 09/15/2023- Middlesex, NJ: Lasers are an integral part of various industries, from medicine and manufacturing to research and entertainment. While lasers offer numerous benefits and applications, they also pose potential hazards if not handled with care. This is where laser warning signs play a crucial role in ensuring safety and hazard communication.
Laser warning signs are not merely decorative additions to a workspace; they are essential tools for hazard communication. These signs provide a visual alert to individuals about the presence of lasers, the potential risks associated with laser exposure, and the necessary precautions to take. By prominently displaying these signs, employers can fulfill their responsibility to maintain a safe working environment and keep employees, visitors, and bystanders informed about potential laser hazards.
Exploring Diverse Possibilities
The realm of laser warning signs offers a wide range of possibilities, accommodating different needs and preferences. Phillips Safety provides an extensive collection of laser warning signs tailored to various scenarios. These signs come in both plastic and magnetic materials, catering to different installation requirements.
One notable feature offered by Phillips Safety is the option to customize laser warning signs. This customization goes beyond selecting standard messages; customers can include specific precautionary instructions and details such as the laser safety officer's name and contact number. This personalized approach enhances safety by providing relevant information to individuals who encounter the laser environment. Presented below are three notable laser warning signs available in Phillips Safety's collection.
Warning Class 3B Laser Controlled Area Laser Warning Sign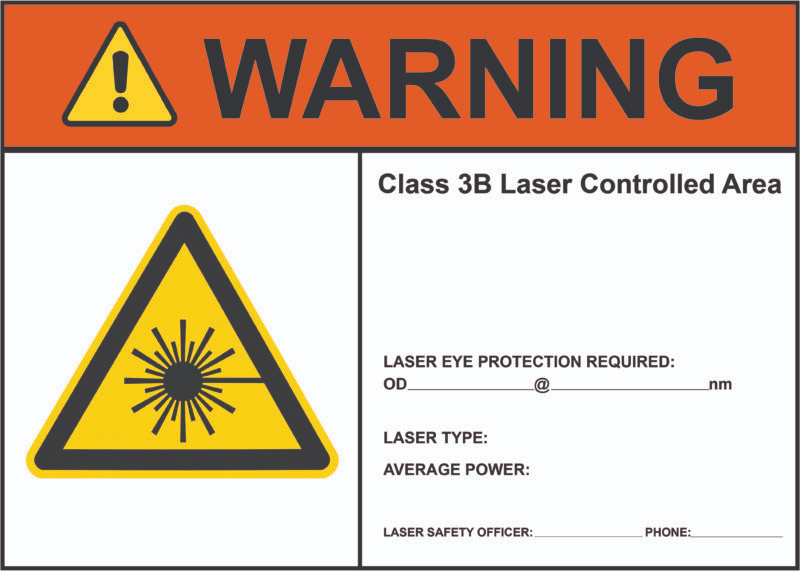 Designed for areas where Class 3B lasers are in use, this sign effectively communicates the potential hazards and controlled access requirements. It prominently displays the message "Warning: Class 3B Laser Controlled Area", and is offered in both standard and customized versions, each boasting dimensions of 14" width x 10" height.
Caution Class 3R Laser In Use Laser Warning Sign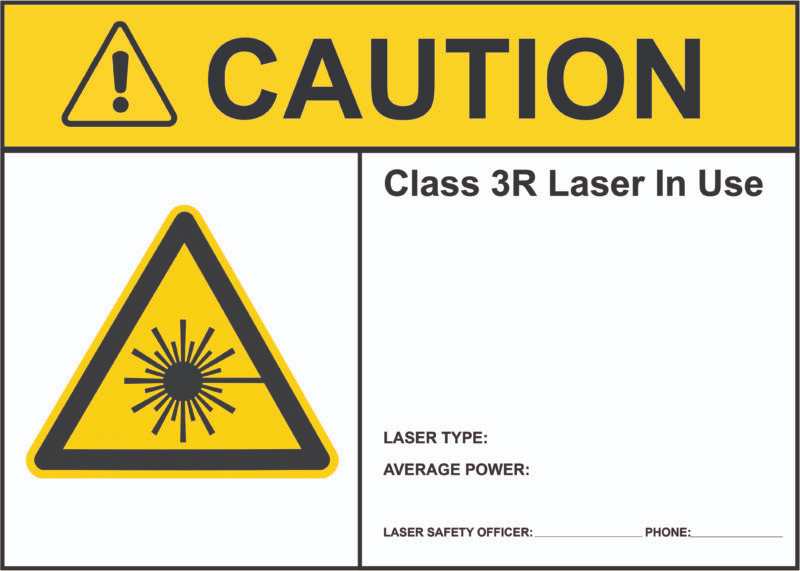 With a focus on Class 3R lasers, this sign alerts individuals to exercise caution in the presence of lower-intensity lasers. It displays the warning message "Caution: Class 3R Laser In Use", with the standard version providing designated areas and lines intended for manual completion.
Danger Class 4 Laser Controlled Area Laser Warning Sign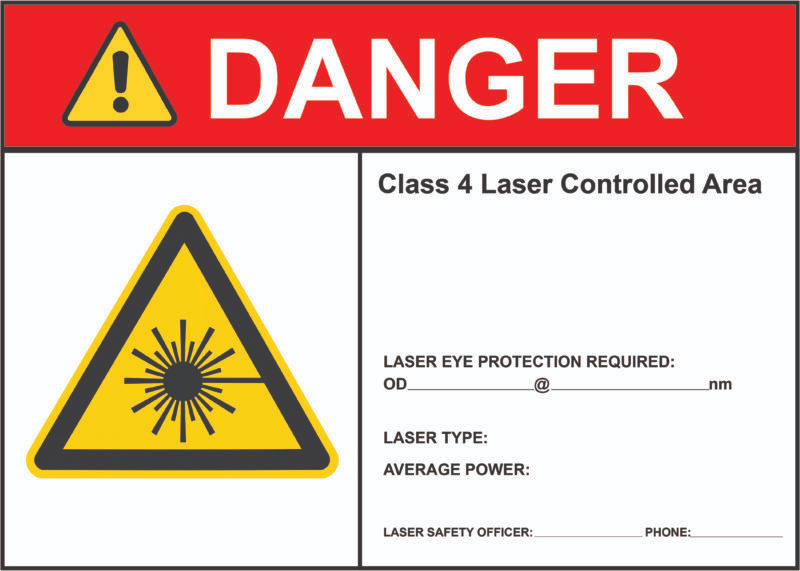 For areas housing high-intensity Class 4 lasers, this sign emphasizes the need for heightened precautions and controlled access. This rectangular sign features the message "Danger: Class 4 Laser Controlled Area" and complies with internationally recognized safety standards, similarly to the aforementioned options.
Enhance Workplace Safety with Phillips Safety
In summary, laser safety is a paramount concern in environments where lasers are utilized. Laser warning signs are powerful tools that bridge the gap between potential hazards and informed decision-making. By choosing the right signs, customizing messages, and ensuring proper visibility, employers can contribute to a safer workplace for everyone involved.
Explore the extensive collection of laser warning signs at Phillips Safety to find the perfect fit for your specific safety needs. Your commitment to laser hazard communication starts with a simple sign that can make a significant difference. If you need help or more information about our products, e-mail us at info@phillips-safety.com, or call us at 1-866-575-1307.
About Us:
Phillips Safety Products Inc. is the world leader in occupational safety products. Phillips Safety specializes in safety glasses for laser, radiation, welding, and glass working among others. The Company's products include laser safety glasses, radiation safety glasses, glassworking eyewear, and welding safety glasses. Phillips manufactures other safety products, including sheeting, barriers, signs, glass, and lenses. The Phillips family has been in the occupational safety industry for over 100 years and continues to play an active role in the community. Don't hesitate to be a part of the Phillips Safety family.
Like us: https://www.facebook.com/PhillipsSafety/
Follow us: https://www.instagram.com/phillips_safety
Subscribe us: https://www.youtube.com/@PhillipsSafety
Contact Detail:
Company Name: Phillips Safety Products, Inc
Contact Person: Media Relations
Email: Send Email
Phone No: 1-866-575-1307
Address: 271 Lincoln Blvd
City: Middlesex
State: NJ 08846
Country: United States
Website Url: https://phillips-safety.com


Source: www.PRExhibition.com